Key Components of
Physical-e-Fit
Physical-e-Fit
The Physical-e-Fit Program was a 3-year faith-based program designed to promote physical activity in AME Churches throughout South Carolina. It was a collaborative effort between the 7th Episcopal District of the AME Church, the University of South Carolina and the Medical University of South Carolina. Physical-e-Fit was funded by the Center for Disease Control and Prevention (CDC) from 2002 to 2005. The goals of the Physical-e-Fit program were to:
increase awareness about the importance of physical activity,
increase church members' participation in physical activity, and
encourage key lead­ers to emphasize and promote physical activity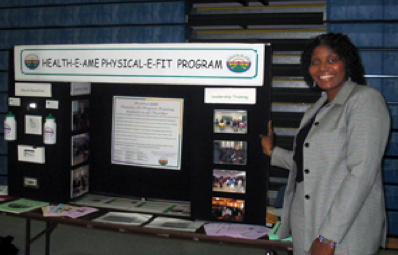 Church-wide efforts were made to promote physical activity through sermons, monthly bulletin inserts, newsletters and other church activities. Key leaders were encouraged to post messages about physical activity throughout the church, include health messages in announcements and to build physical activity into church activities. All activities and messages included spiritual or religious message (e.g. scriptures, meditations) and culturally tailored information. Health directors were trained to organize and deliver the program.
In addition to handouts and materials, Physical-e-Fit consisted of three core activities designed to meet the individual needs of congregations. Activities included chair exercises, praise aerobics (i.e., aerobics set to gospel music) & walking programs. An eight week program titled 8 Steps to Fitness was also developed to help church members become more active and eat healthy. First Steps: Getting Starting with your Program (PDF) &  Keeping the Spirit Alive: Maintaining your Physical-e-Fit Program (PDF) are user friendly guides that offer tips on getting the Physical-e-Fit Program underway & keeping the momentum going over time.
The information and materials presented in this section are provided, as originally developed for Physical-e-Fit, and have not been revised or updated.  It is our intent to present the program as it was delivered at the time. More than 300 AME churches from across the state participated in Physical-e-Fit and took steps to lead more active, healthy lifestyles. We hope that information provided in this section will inspire you to do the same!