FAN Program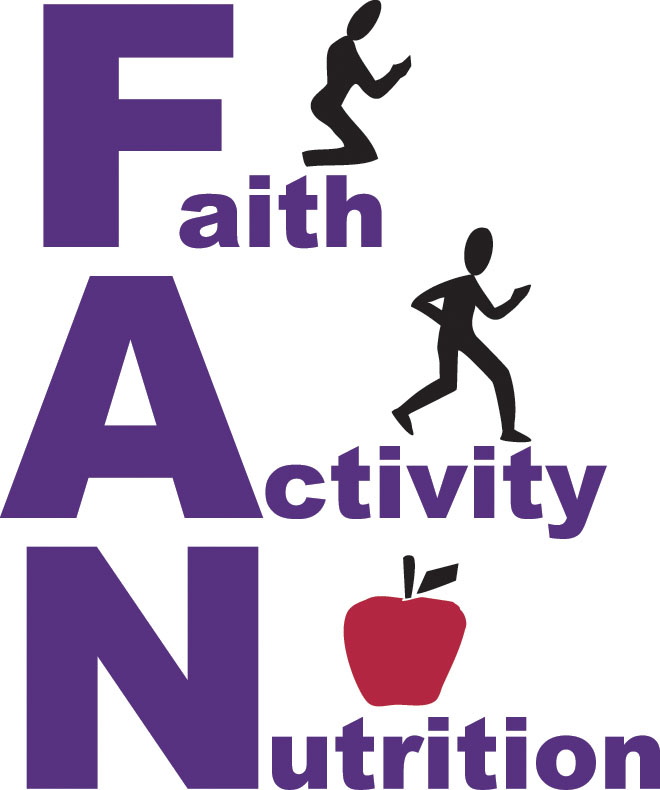 Faith, Activity, and Nutrition
Faith, Activity, and Nutrition (FAN) was a program designed to increase healthy eating and physical activity among African Methodist Episcopal (AME) church members. Although designed with the AME church in mind, the information and tools provided in the online FAN Committee and FAN Cook trainings can assist any denomination or group interested in promoting healthier behaviors and environments. FAN aims to create a healthier church body, where the majority of members see and hear health messages that encourage healthy lifestyle choices. For we believe, with strong physical health, church members can become stronger in spirit and more active in church life.
The goals of FAN are to help AME members become stronger in health by:
Becoming physically active at a moderate intensity (e.g., brisk walking) for 30 minutes per day, at least five days per week
Eating around 5 cups of fruits and vegetables each day
Eating whole grain foods (e.g., whole wheat bread instead of white bread, brown rice and pasta instead of white rice and pasta)
Eating less fat, especially saturated fat
Eating less sodium (salt)
The type of activities you select to meet the FAN goals will depend on the needs and interests of your congregation or group. Determining what works best can be achieved by a diverse committee of members who are interested in health. This committee will propose and plan activities that promote healthy eating and physical activity throughout the entire congregation or group. Healthy changes to eating and activity patterns are best maintained when introduced slowly over time; therefore, FAN is designed to be put in place over the course of about 15 months. The online FAN Committee and FAN Cook trainings will take members step-by-step through the process of identifying activities that your congregation or group will find useful and enjoyable. Additionally, monthly materials and resources are provided to help support the FAN program over time.
The full online FAN Committee Training and FAN Cook Training are provided in both text and self-paced training module formats to make the FAN program available and as user-friendly to as many as possible. You may choose to view the self-paced training modules or read through each written section. It is not necessary to do both. After completing the FAN Committee and FAN Cook trainings, members will be well on the way to creating healthier environments and lifestyles.
Stay Healthy!